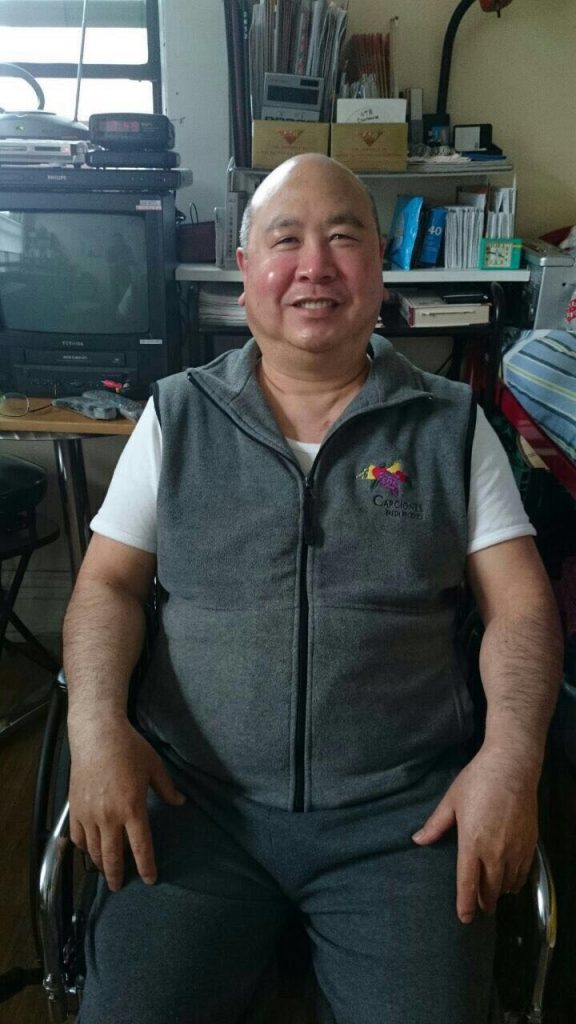 我叫何鐵江,在這與大家分享一下我的個人見證。我出生于中國廣州,1980年我移民去了香港。於1996年在香港開始拜佛和濟公,一拜就拜了18年和吃了18年齋。我相信有因果,喜歡學風水、看面手相和算紫微斗數等等,而且又迷信,不想與衆生結仇,希望萬事逢凶化吉。2001年我移民到美國,職業是司機,一直相安无事,但在2012年10月2日不幸發生車禍,我受傷非常之嚴重。當時我背脊的腰骨突出,移位及縮窄,左邊鎖骨受壓,需要馬上動手術,還有兩隻脚踝有骨裂,右膝韌帶破裂,鼻骨也受傷了也要動手術。住院的四十天裏,精神非常緊張,不能入睡。2012年11月9日出院後,我住在我的姐姐附近,我很悲觀,情緒極不穩定,曾經有想過自殺,又患了憂鬱症,要看精神科醫生,不想見人,怕光,將窗口全部遮住。
       姐姐和我女兒都是基督徒,非常關心我。女兒介紹一班基督徒朋友來探望我,使我感受到他們的愛、關懷、溫暖,我很受感動,很開心。他們不間斷地每星期都來探望我,有九個月之久。當時雖然他們熱心探望我,時常勸我信耶穌,但是起初幾個月,我不接受,因爲我發了毒誓給濟公要永遠信奉它。後來志康弟兄給我帶來一位在澳洲的基督徒的錄音見證,在見證裏她敘述了她以前也有類似我的情況發毒誓給佛,後來信了主耶穌之後,都沒發生什麽不好的事在她身上,所以我便放心信主耶穌,在2014年7月14日接受了主耶穌成爲我個人救主。
       信主後起初遇到很多困擾,第一次自己搭車返教會,心情特別緊張,等車時還撒了尿。之後每天禱告,相信這位真神主耶穌祂爲我改變了一切,我知道主耶穌時刻都在我身邊,所以有什麽困難和憂慮,想起主就整個人變開心了。我現在每天還未起床時就開始讀甜美日程祈禱、禱告還唱詩歌,星期日參加聚會,同教會弟兄姐妹一起禱告、唱詩歌,同教會弟兄姐妹關係變得密切很多,常常想到有主同在心情特別開心。以前我對家人有仇恨,因爲被家人抛棄,心情非常不好受,經過聚會多禱告,唱詩歌,學會了放下仇恨,還會為家人禱告。經過兩年多這样豐富的生活,心情愉快,我個人面貌也改變了,而我姐夫因爲看到我的喜樂他也信了主耶穌。我最後一次看精神科醫生是2016年12月1日,醫生說我不用再去看她了,她説我的憂鬱症已好了很多,沒有那麽緊張,睡眠時間也好了很多,有進展。我不再擔心魔鬼撒旦的攻擊,也比較樂觀了。
       最實在、最可靠、最經得起考驗,每一天都經歷到神的愛,能夠活著,看到清晨的陽光,有機會在大家面前分享到我的見證,全都是神的愛。能在大家面前分享見證,都不是凴自己可以有膽量,如果沒有神的允許,恩典和祝福,我不可能為大家分享見證,所以每次分享見證的時候,我都很感動、很感恩,這是神在我身上的祝福、神對我的愛。感受到主的偉大和恩典,希望自己的見證可以鼓勵別人,使更多未信的朋友也會快快接受主耶穌成爲你們個人的救主,一生倚靠祂,雖然人生的前路不知道會是怎樣,但靠著主,相信祂會帶領我走人生的每一步。
若你想進一步認識耶穌基督,歡迎與我們聯絡:
三藩市神的教會製作
http://sf.bachurch.org
2016 年 12月 版權所有 All Rights Reserved
#Testimony #見證 #TheChurchOfGodInSanFrancisco #三藩市神的教會 #TCOGSF
The Lord Healed Me From Depression - Ben Ho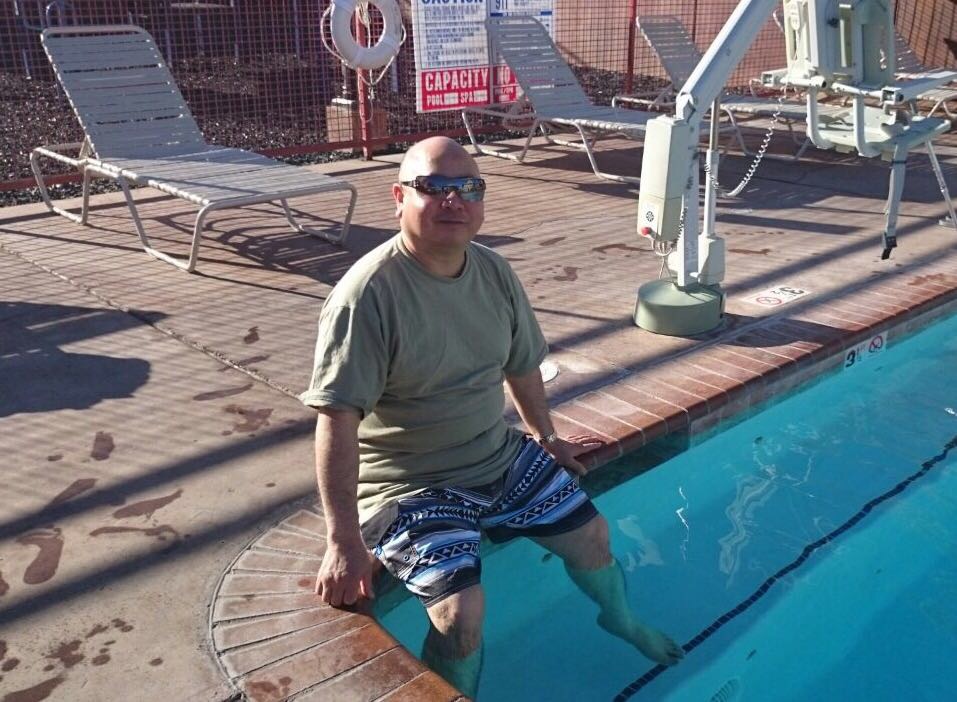 My name is Ben Ho. I want to share my personal testimony with you. I was born in Guangzhou, China and immigrated to Hong Kong in 1980. Starting in 1996, I had worshipped Buddha and Ji Gong and committed fasting for 18 years. I believed in karma, liked to learn Feng Shui, assessed physiognomy, practiced purple star astrology, and etc. I was also superstitious, did not want to make enemies with all living beings, and wished to turn all bad luck into good fortune. In 2001, I immigrated to the United States, my occupation was a driver, and my life was peaceful until the car accident on October 2, 2012. I was badly injured: the lumbar bone of my spine protruded, mislocated and narrowed, left clavicle was pressured, both legs were fractured, left knee ligament bursted, and nasal bone was also injured. I had to have surgeries immediately. In the forty days when I was hospitalized, I was nervous and could not sleep. After discharge from the hospital on November 9, 2012, I lived nearby my older sister's living place. I was depressed, my mood was unstable, and I had suicidal thought. Later I was diagnosed with depression and had to see psychiatrist. I became afraid of seeing people and sunlight, so I blocked all my windows with newspaper in my room.
My older sister and my daughter are Christians, and they really care for me. My daughter introduced a group of Christians to me. I had felt their love, concern, and warmth; I was moved and happy. For nine months, they came to visit me every week without interruption. In the first few months, although they were eager to visit me and often persuaded me to believe in Jesus, I could not accept Him as my personal savior yet because I had sworn to Ji Gong to worship him forever. Then, brother James brought an audio testimony of a Christian in Australia to me. In the testimony, the Christian described how she made similar swear to Buddha, and nothing bad had happened to her after she believed in Lord Jesus. Then, I was relieved and came to believe in Lord Jesus. On July 14, 2014, I accepted Lord Jesus as my personal savior.
I encountered a number of troubles after I believed in the Lord. When the first time I had to take bus to church, I was so nervous that I soiled myself while waiting for the bus. Afterward, I pray everyday, believe this true God Lord Jesus has changed everything for me, and know Lord Jesus is always by my side. Therefore, facing difficulties and worries, I will think about the Lord and become happy again. Now, every morning before I get out of my bed, I will read the prayers from Sweet Daily Living, pray, and sing hymns. I will go to church, pray and sing hymns with brothers and sisters on Sunday. We have a close relationship now. I often think that the Lord is with me, and that makes me particularly happy. In the past, I had hatred to my family because I was abandoned by my family and was upset. Through many church meetings, prayers, and hymns, I learned to let go of the hatred and pray for my family. These two years of abundant life really makes my heart very happy, and my countenance has changed. My brother in law also believed in Lord Jesus after he recognized my changes and happiness. My last visit with the psychiatrist was December 1, 2016. The doctor said I didn't have to see her anymore because I had been much better; I was not as nervous, and my sleeping hours had become better and improved. I don't have to worry about Satan's attacks any more. I have become more optimistic.
God's love is most real and most reliable, and it can go through trial. To experience God's love everyday, to live, to see the morning sunlight, and to have the opportunity to share my testimony with you, it is all because of God's love. Without God's permission, grace and blessing, I cannot share my testimony with you out of personal courage. Therefore, every time when I share my testimony, I am moved and grateful for God's blessing and love on me. I wish my testimony can encourage others and help the non-believers quicken their acceptance for Lord Jesus to be their personal savior, and they can rely on Him throughout their lives. Although I do not know my path ahead, by the Lord, I believe He will lead every step of my life. 
If you want to know more about Jesus Christ, please feel free to reach out to us:
Made by The Church of God in San Francisco
http://sf.bachurch.org
December 2016 All Rights Reserved
#Testimony #見證 #TheChurchOfGodInSanFrancisco #三藩市神的教會 #TCOGSF